HOW TO CREATE MY JEWEL ?
You will have to focus your attention to several and unavoidable criteria to design your jewel.
TREAT YOURSELF
Designing your jewel must be a real treat. You will have questions, loads of…..
You will have wishes, doubts like « this way or that one… ?? »
That is why time for reflection is crucial. After your project has been studied and all the criteria validated, we will proceed to the making of the jewel. The final and more important step, being the moment you will open the jewellery case.
DO TAKE YOUR TIME
It is mostly important to anticipate your project. Two or three months are ideal from the validation of your sketch.Keep in mind our creations are unique ! We make no mass-production, so we need time to proceed.
NO IDEAS… ?
Lack of inspiration ? You know what you do not like though! So let us play the investigators : we will question you through sketches.
Give us important details you wish, such as metals , alloys of colours , gem choices, classic or contemporary design, shapes, size…. Ideas and photos are of course welcomed.
You perfectly know what you want ? Are you so sure ? We will tease you to make you improve and specify your wish, just to help you maybe discover a detail you would have never thought of.
BUDGET
You are dreaming of a jewel but you do not know its value ? Give us a scale of budget so that we can adapt your wish to it.
Gem choice is essential, they will be the soul of your jewel. We will always guide your choice towards a smaller but more beautiful stone rather than the contrary.
SERVICE OF QUALITY AT OUR JEWELLERY WORKSHOP
Be reassured, we follow up each creation coming out of our Workshop. From the check up of gem setting to the size adjusting or full cleaning. A full lifetime warranty of your jewel is as important for its bearer as for its maker team. Therefore it remains crucial we stay close since we are the ones to know how your jewel has been made.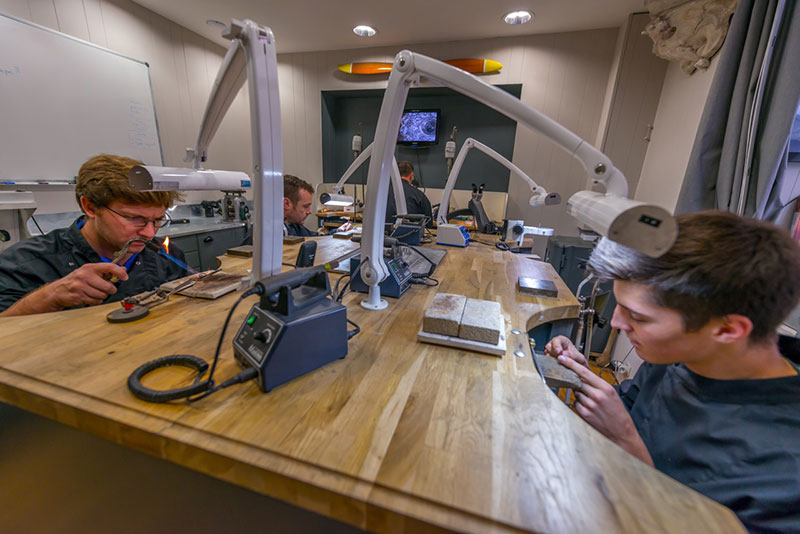 We make your jewelery in our workshop in Nantes. Contact the workshop - Tel: +33 (0)2 85 52 38 63